Shillong Teer – How To Play A Winning Game
Here is an overview of the Shillong Teer lottery. How to play it? The game's rules and regulations and so on, so that you are well aware of everything about the Shillong lottery game.
What is Shillong Teer?
Shillong is the hill station of Meghalaya and teer means arrow. Shillong teer is the most sought-after lottery game played in Shillong, Meghalaya state, India. It is a legal lottery game, regularized in 1982 under the Meghalaya Amusement and Betting Tax Act rules. Every day, the game is played in two rounds, and the most fortunate participant takes the winning prize home. There is no maximum limit on the winning amount; the more tickets you buy, the greater your chances of victory.
| | |
| --- | --- |
| Game Name | Teer of Shillong |
| Type | Betting/ Gambling |
| Country | India |
| State | Meghalaya |
| City | Shillong |
| Game Location | Polo Ground, Shillong |
| Organized by | Khasi Hills Archery Sports Association |
| Under Law | Meghalaya Amusement and Betting Tax Act – 1982 |
| Game Method | Archery |
| Game Days | Mon-Sat ( Sunday off ) |
| First Round Starts | 3:30 PM |
| Second Round Starts | 4:30 PM |
| Ticket Price | Starts from Rs 1 up to Rs. 100 |
| Winning Amount | Rs. 80 for every Rs 1 Ticket |
Background
Archery has been practiced for centuries in Meghalaya state. The Khasi consider archery to be a gift from God. They used bows and arrows as their weapons to free their country from British rule. Communities in Shillong later began holding gambling-based archery competitions in order to maintain the tradition.
After that, the majority of indigenous tribes, especially the Khasi Jayantha's and Garros, adopted Christianity as their religion, which forbade all forms of gambling. When the Meghalayan government outlawed this game in 1981, all activities shifted underground and local thugs tried to speculate in the market, but this did no good.
Later, the government understood that it was possible to kill two birds with a single arrow, creating jobs for the locals and bringing in tax revenue from the sport of archery. So they legalized this game in 1982 and made it into the spot that it is today.
What are the rules of the game?
The game is also well-known under the names "Thoh Tim," "Siat Khnam," or "Archery Betting." The Khasi Hills Archery Sports Association is responsible for organizing the game on a regular basis on the polo grounds of Shillong. Twelve clubs are members of the Khasi Association.
At the time of ticket purchase, the participant has to guess the two-digit number from 1 to 99. The game is archery-based, where 50 archers shoot 30 arrows in the first round and 20 arrows in the second to a target called "Skum" in the local language, placed 50 yards away. The maximum time allowed for completing the shoot is 2 minutes. The arrows are made exclusively in laitlyngkot.
Once the game is finished, spectators and betting agents wait anxiously for the result which is announced in a two-digit number. For instance, if the 754 arrows hit the Skum, 54 will be the result.
The lucky winner will be awarded a monetary reward. The lottery can be played on weekdays from Monday to Saturday in the morning, evening, and night. Sunday results aren't available because it's a holiday for Shillong teer. 
How To Participate?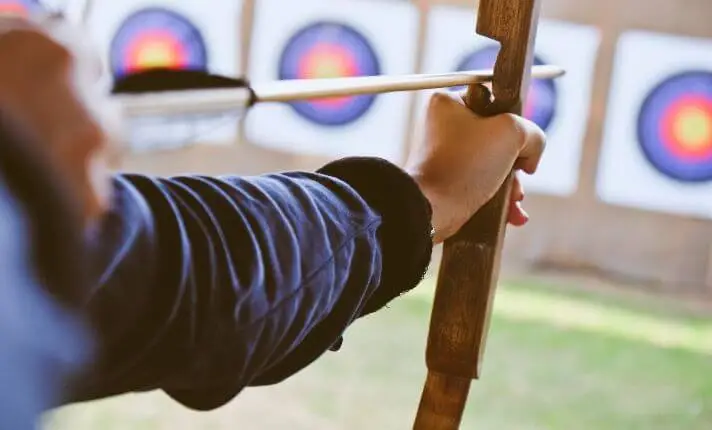 Anyone who wishes to participate in the lottery can do so by buying tickets from counters. Around 5000 counters, with a turnover of lakhs, are built to sell the tickets for the game in Meghayala and are available to sell from 10 am to 3:30 pm.
Ticket prices start from Rs 1 to Rs 100. A person who buys a Rs 1 ticket can win Rs 80 in the first round and Rs 60 in the second round for Rs 1. The archery session will start after the ticket counters are closed. While buying a ticket, the party has to guess the two-digit number.
How To Check The Shillong Teer Results Online?
Results may be delayed due to the poor connectivity of the internet in Shillong state. However, www.teerwin.com is updated daily on a real-time basis with the Shillong Teer results as soon as they are announced at 3:45 pm (first round) and 4:45 pm (second round). You can check morning, evening, and night results online as well as offline. 
Other Archery Lottery Games
Teer is the most played game in Shillong. However, other games are also equally popular and similar to the Teer lottery. 
Khanapara Teer
Juwai Teer
Assam Teer
Bhutan Teer
Ladrymbai Teer
How to Choose a Dream Number?
It is a betting game like gambling. Consequently, there is no specific calculation for the exact number. This game is a heady cocktail of Shillong, so locals take this game very seriously. They have created a number of formulas over time to estimate the number. Luckily, some of them are accurate.
Residents of Shillong use various techniques, one of which is to make a guess after seeing a dream. The dream is converted into numbers. There is a list of dream number interpretations. They take their nighttime naps very seriously and remember their dreams the next day because the dream numbers are frequently accurate. According to them;
A cow means the number 4.
The tiger represents the number 9.
If they see a man in a dream, that means the 06 number.
For a woman, it's number 05. 
A quarreling couple means the number 13.
In the case of a sensual dream, the number is guessed as 17.
The teer dream number is associated with many dream interpretations. It's all about the beliefs of Shillong's people. There is nothing to be believed but a random guess and a stroke of luck.
Shillong Teer For Locals
There are no jobs available for Shillong residents, therefore, bookies archers, and a lot of people over there are employed through this lottery. If the government would stop the game thousand of people would die out of hunger.
Young and old shooters from different age groups participate in this historic game of bows and arrows at this location on most leisurely afternoons, with up to two lakh persons involved directly or indirectly.
Additionally, the Teer of Shillong is also a source of livelihood that not only promote social tradition but also brings joyful interaction to the native.
Hundreds of archers in Shillong are employed by the Khasi club and paid Rs 300 per game for two rounds. They make around Rs. 30,000 per month from archery. On the other hand, ticket sellers earn 350 to 500 daily.
Final Verdict
Without a doubt, the Shillong Teer is the cash cow for Meghalayan residents because it gives the locals work and brings fortune. They used a common trait of the community to preserve something that needed a reservation. It is a legal lottery to support the state as well as residents. However, the drawback is that people have become addicted to betting on archery, thus purchasing hundreds of tickets that bring joy for some but disappointment for others.
FAQs